Regular price
Sale price
$9.95 USD
Unit price
per
Sale
Sold out
ELIMINATES ODORS: This in-wash product effectively penetrates deep into fibers to eliminate unpleasant smells and odors right at the source while leaving a fresh clean scent
NO MASKING ODOR: Keep fabrics odor-free, not mask them, with this powerful formula designed to capture and eliminate odor-causing molecules including odors that detergents may leave behind
BLEACH-FREE: Remover tough laundry odors without the use of bleach to extend the life of your garments by eliminating odors while you help freshen up fabrics
COLOR-SAFE: Safe for washable colored fabrics and whites, and can be used in high-efficiency and standard washers. Just add this odor remover to the fabric softener compartment of your washer
POWERFUL CLOROX CLEAN: Fight tough laundry odors including stinky towels, sweaty workout gear, children's sports uniforms and anything else life throws at you with the Clorox™ brand you can trust
Share
View full details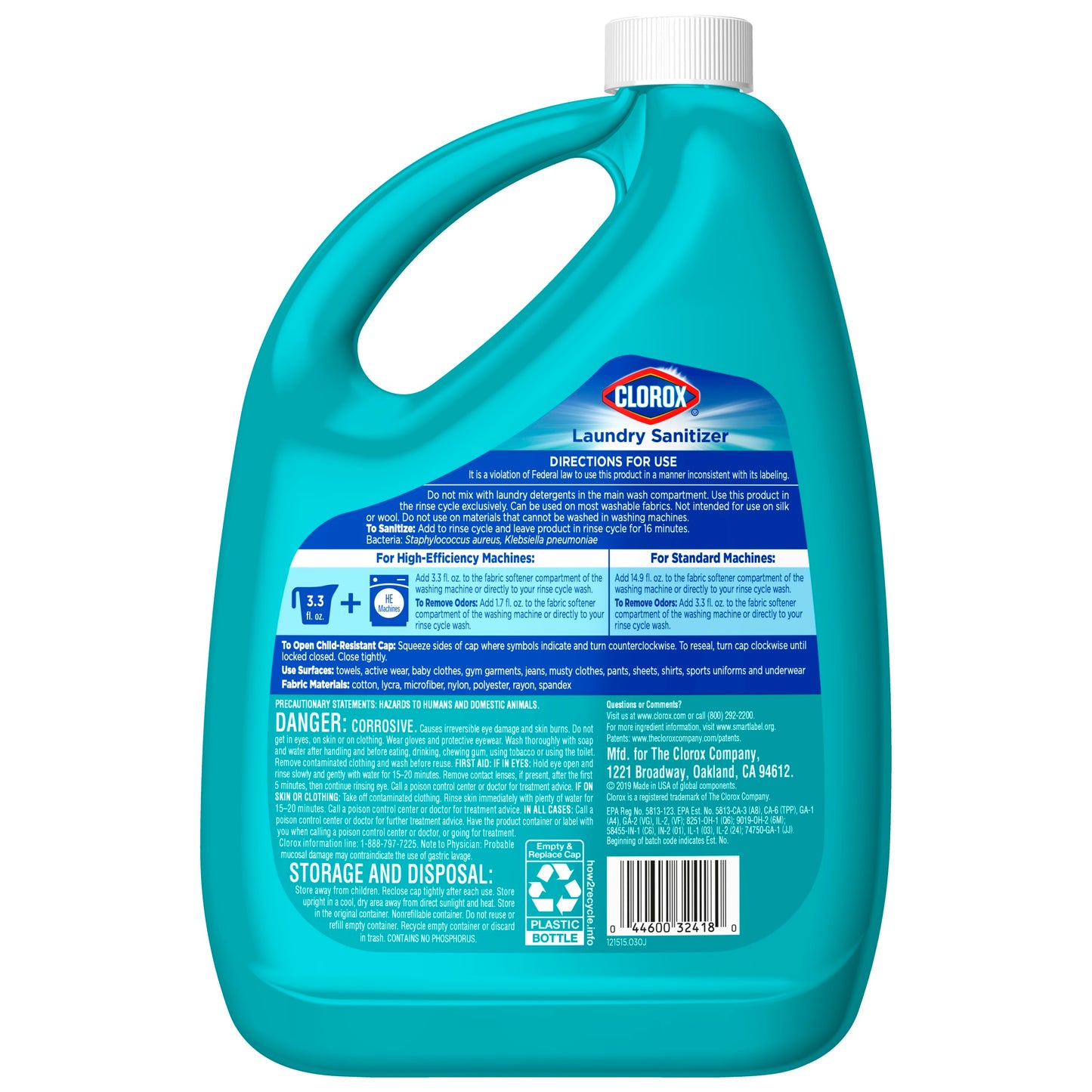 Clorox laundry sanitizer
Great product for clothes, coats etc. I spray outer garments as soon. As I get in. Great senior care when washing laundry.. very pleased with product!
Laundry sanitizer does the job
Needed something to sanitize after a covid exposure. I could not find any anywhere except here. My problem was I thought it would arrive too late. My daughter had been at her bf house during her exposure and quarantine and was going to be home on Sunday. This package was originally going to be delivered on Tuesday. Lucky for me it delivered on Saturday. I was super happy with the expedited shipping!!
Clorox laundry sanitizer
I absolutely love it, it kills germs( 99•9%) it what made me buy it,and it smells great,makes my clothes,coats, bedding smell fresher.
Clorox laundry sanitizer is great
I love that this takes out any odors that used to linger in clothes. Great stuff that works.
It makes the clothes smell fresh.